Becoming a home barista isn't rocket science. It's easy to make delicious coffee in your own kitchen. You just need a reliable machine that looks and feels the part.

Siphon coffee makers offer serious coffee drinkers a fabulous coffee-making experience. It's not just about taste, but about watching something beautiful and intense being created. True coffee geeks say that the several-hundred-year-old siphon brewing method is the best invented- and they're right.

So, your perfect cup starts with making that crucial decision: do I buy an electric siphon or its stovetop version?
Our Top Picks
Why a Siphon Coffee Maker? What's the Difference Between Electric and Stovetop?
To get a perfectly rounded cup of siphoned coffee, the choice of device is essential.

There's a vast number of machines on the marketplace with (sometimes) equally huge price tags, so it's important to get it right.

We all know how siphon coffee makers work and that they look like something used in a school chemistry lab, but how do you go about picking a good siphon brewer?

Whichever one you go for, it'll seriously add class to your kitchen and impress your guests (who may have only seen these bad boys in hipster cafes before now).

There are two types of siphon machines out there: stovetops and electric. It's not hard to figure out how they named them since they're labeled after their heating sources.

A stovetop siphon is designed to sit on top of an electric or gas stove. You'll have to put a diffuser between the machine and the heat source because direct heat exposure increases the risk of the bottom chamber cracking. The designs are usually pretty simple and lack the style of the electric models.

An electric or standalone machine may be less romantic and more practical, but it comes with its own stand or heat source, with either a separate or built-in gas or alcohol burner sitting neatly below the bottom chamber. Plus, they're portable machines that are the ultimate in convenience. You just literally plug it in, and you're good to go!

Typically both machines make between three and eight cups per brew.

Choosing between the two isn't simply just about aesthetics, although it's fair to say the standalone designs are flashier than their stovetop cousins. They also put a heftier dent in your wallet- but if you want quality and bling, you have to pay for it.

So, they look like a seriously impressive piece of kit, and with that comes a higher price than the usual kitchen worktop accessory.

Throughout this review, we look at four such products, their pros, cons, what people like and dislike about each and any particular differences in their features.

Let's take a look at what's out there:
KitchenAid Siphon Coffee Brewer (Medallion Silver)
Automatic siphon brewer is safe, easy to use and requires no open flame, 8 cup capacity.
Uses vacuum technology to brew a delicious velvety, complex cup of coffee with fuller body.
Distinctive glass globe design offers a dramatic view of the siphon brewing process.
Choose your level of filtration with a reusable stainless-steel for full-bodied coffee or a cloth filter for a lighter brew, both included.
Automatically turns off after water reaches ideal heating temperature.
Pros
Kitchenaid has been a popular appliance company in America for years. If you're curious about the whole siphon coffee making process but unsure if it's for you, the good news for beginners is that this functional yet great looking machine is automated. It has a magnetic locking seal and a large capacity.

It's built like a tank and looks incredibly solid. If you know anything about these machines, you'll have worked out that regular heat will eventually weaken the sturdy glass, but fortunately, this machine is built to last. Users report it's effortless to use and makes around seven to eight cups per brew. It comes with a cloth filter.
Cons
The bad news is, it's harder to clean than drip devices. Also, some reviewers complain it actually boils the coffee leaving a lightly filtered brew.

Obviously coffee needs to be hot, but boiling water just extracts bitter flavors. Most siphons keep the water at near boiling, but Kitchenaid takes it up past 100 celsius. This cuts the brewing time down to just a couple of minutes, whereas the recommended brew time is around 11 minutes. The machine also comes in at the more expensive end of the market.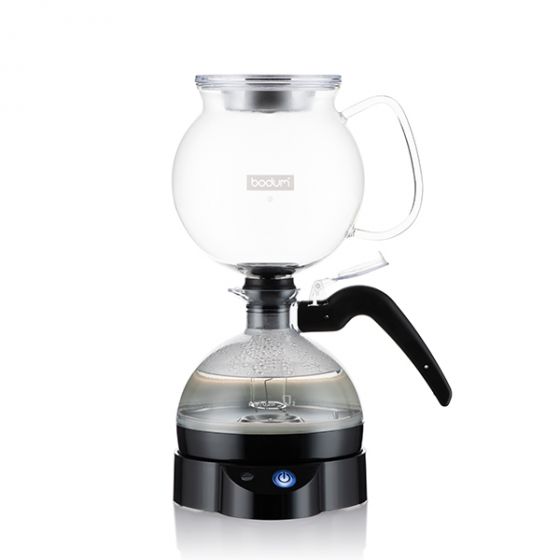 Pros
This is a really cool looking piece of kit. If you want to relive your science lab lessons, you or your guests can watch the entire brewing process through the two firmly attached bowls. The bowls are really tightly sealed, so none of the aroma is lost.

The ePebo claims to make up to six perfect cups in five to 11 minutes, although many reports say it's more like eight cups. There are plenty of online videos about this product, so it's easy to learn how to get the very best out of it.

The bottom is made of BPA free Triton plastic, so no chemicals in your coffee. No paper filter needed, and one reviewer uses it to brew tea! The base automatically controls the brewing cycle, and there's a soft rubber handle on the coffee jug. Those who love it say it's easily the best electric siphon out there.
Cons
Not everyone loves it! Common complaints include: the coffee not draining out well, so the coffee gets stuck in the top reservoir. Also, it only brews to a light roast. Heavy cleaning of the product does apparently help.

Those who have used Bodum machines for years report that the quality is not as high with this one.

Although its sales description states it's all glass, reports say in fact the top is glass, but the bottom is plastic.
Pros
This neat looking Japanese model is more slimline than both their older model, the D853 and the Bodum design.

Again it's easy and fun to watch the brewing process. Neither a pro or a con, but you'll also need a step-up transformer, as the machine is 100v.

Reviewers say it makes excellent coffee and that it's easy to clean. Despite some of the cons below, those who have used it state that it makes the best coffee they've ever tasted, so maybe the Japanese instructions are worth the pain!
Cons
Very little information out there about this one! Newbies report it's a lot more work to use than their drip machine, but that's pretty much the case with any siphon.

Both sections are glass so you'll need to handle it carefully! It's also probably best not to put it in the dishwasher- which can be a pain if you don't have time to wash up.

The manual comes in Japanese and only in Japanese, which means turning to the internet to find English instructions.

Not everyone loves the cloth filter, some users opt to buy mesh or paper ones instead.

Plus, the jug is pretty small and only stretches to four cups, so if you're after an entire morning's brew for the family, this may not be the model for you.
Klarstein Syphon Vacuum Coffee Maker, 360° Base, LCD Display, Touch Operation, Keep-Warm Function, 500 Watts, 0.5 Litre, Automatic and Manual Preparation Mode, Piano Black
DESIGN: The Syphon Coffee Maker is a vacuum coffee machine that is perfect for preparing specialty coffee anytime at home or at office. It impresses with easy handling, extraordinary design, and outstanding performance.
SIMPLE COFFEE MACHINE: Just add water and coffee and switch on automatic mode for delicious coffee without any hassle. In addition, a manual mode allows you to take control and perfect your favourite brew.
VACUUM: After brewing, a vacuum is created in the pot which pulls finished coffee back into pot while spent coffee grounds remain securely in the top of the tank.
RELIABLE: Using the correct water temperature for your coffee ensures that over-extraction and burning is avoided.
PRACTICAL: Cleaning the Syphon coffee maker after use is simple and efficient
Pros
It's a neat and compact design that doesn't take over your entire kitchen surface. It also claims to deliver a full-bodied cup of coffee in a really short space of time. It comes with an automated digital control mode in the base of the machine for fast brewing, but if you want your brew to last a bit longer, you can switch the machine to manual.

The jug can be rotated in all directions on the base and removed from the machine.

Enthusiastic reviewers describe a rich, clean cup of coffee from a machine that's easy to use (with a much more reasonable price tag than competing machines). It comes with an English and Spanish user manual.
Cons
It's tricky to clean, but again, that's something reviewers report about most siphons! It may simply be that eventually, people who are used to other coffee-making devices eventually adapt and think the siphon is worth the effort.

Users report the instructions are really poor and difficult to get to grips with. As such, the machine is better understood by finding a few explainer videos before you get going. Several reviewers, however, found the end result to be pretty regular tasting and lacking in depth.

Some people dislike the cloth filter and report that the heating pad got worse at heating after a relatively short space of time. There are some reports of the water over boiling while others note that after a few weeks of use, the water began to take longer and longer to heat. The pot is very small, so really, unless you don't mind making coffee over and over, this isn't the machine for you.
Final Thoughts
We hope this review helped you find the perfect electric siphon coffee maker for your kitchen. Really and truly, you won't go too far wrong with any of the above models!

Have you used any of these machines before? If so, we'd love to hear your thoughts and opinions in the comments box below. Speak soon!
Rosie Greaves is a professional content strategist who specializes in all things lifestyle. You can also find her published on 2Caffeinated, Cake and Lace Blog, and Love You Tomorrow. Check out her website Blog with Rosie for more information.